Let our team of flooring experts take care of your flooring finishes with DiamaPro Systems' UV-HS Plus to save you time and money. Its superior quality, easy maintenance, and speedy installation make it the best option for your flooring coating needs.
Often, much concern is placed when undergoing any construction project due to the expensive inconvenience of the facility's downtime during a project. We offer services to remedy that potential threat against the loss of working hours. We partner with DiamaPro Systems, whose exceptional DiamaPro UV-HS Plus System provides a durable, easily maintained finish for your flooring that enables return to full service immediately after the coating is applied.
The Ultraviolet-cured coatings cure instantly, making it the ideal choice for your facility's floor finish for all types of commercial operations, including industrial, manufacturing, and food service flooring. This cost-effective option of DiamaPro Systems UV-HS instantly cures under ultraviolet light. Once applied directly to the floor, the UV-HS System is spread with a squeegee, a rubber-edged blade, is back-rolled, and cured with a HID Ultraviolet light machine.
The benefits of this UV Coating treatment are abundant. It is resistant to various industrial, food, and automotive cleaning materials, and is optimal for various applications such as vehicle showrooms, healthcare labs, warehouses, and manufacturing and industrial operations. This is environmentally safe, the amount of Volatile Organic Compounds, or VOCS, being well below state and federal limits, and only requires routine cleaning consisting of sweeping, mopping, or scrubbing to maintain its pristine condition.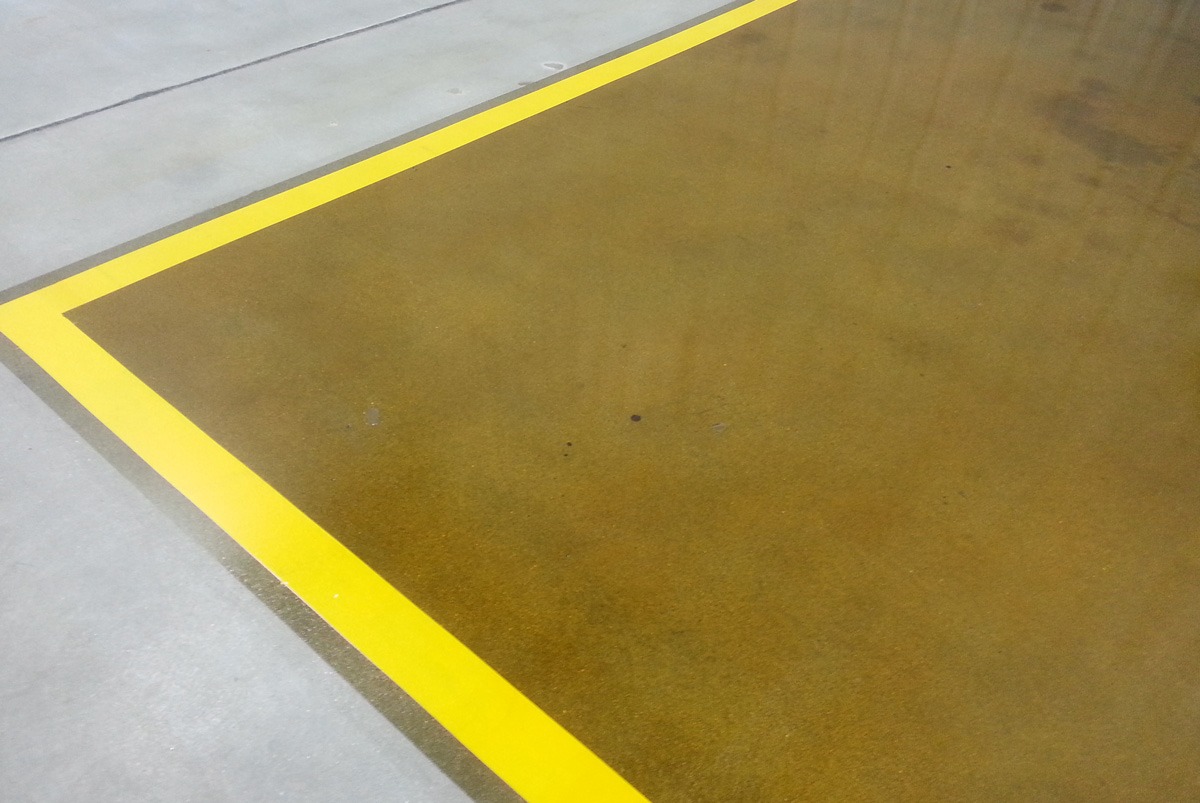 Benefits of DiamaPro UV Coatings
Extraordinarily durable
Ideal for industrial, commercial & retail floors that constantly withstand heavy forklift and foot traffic – won't chip, crack or peel
Outperforms other coatings in chemical resistance
Shows no sign of deterioration after a minimum of 12 hours exposure to chemicals such as: mustard, ketchup, vinegar, bleach, gasoline, peroxide, wax strippers, motor oil, hydrochloric acid and even Skydrol®, one of the most caustic chemicals for concrete.
Easy to maintain
Routine scrubbing, sweeping or mopping is all it takes to maintain a DiamaPro UV coated surface.
Provides a safe and aesthetically appealing surface
Yields a coefficient of friction that exceeds National Floor Safety Institute standards and has a low VOC content. Concrete floors shine long after coating, resulting in a brighter, more reflective work space.
Available in gloss and matte finishes
Get a clear, reflective surface similar to polished concrete or a softer, reflective image for restored floors
Slip resistant
In extremely wet areas where additional traction is required, a blended aluminum oxide aggregate can be added prior to curing, resulting in a safer wet walking surface.
Infused with Microban® to stop the growth of mold, mildew and bacteria
Microban is a proprietary bactericide and antimicrobial. it keeps floors cleaner by preventing damaging microbial growth before it can start. For applications for sanitation is crucial – cafeterias, restaurants, supermarkets, healthcare facilities, pharmaceutical labs, kennels and veterinary offices – Microban infused DiamaPro is the solution.
Odor Resistant
Being infused with Microban enables DiamaPro UV-HS Plus to fight off odor causing bacteria.
Quick installation
DiamaPro UV-HS Plus can be cured at any temperature, now requiring a primer for ease of installation.