Polished concrete is fast becoming a popular alternative flooring system to granite, marble, tile, linoleum and even coated concrete.
With the latest advances in concrete polishing technologies and techniques we are grinding old and new concrete floors to create a high-gloss finish that does not require any additional coating or waxing.
Polished concrete floors are created by adding chemical densifiers to the floor to fill in pores and holes. The concrete floor is then ground using diamond polishing tools. We progressively use finer diamond polishing tools to achieve the smoothness and level of sheen you desire to achieve with your concrete floor.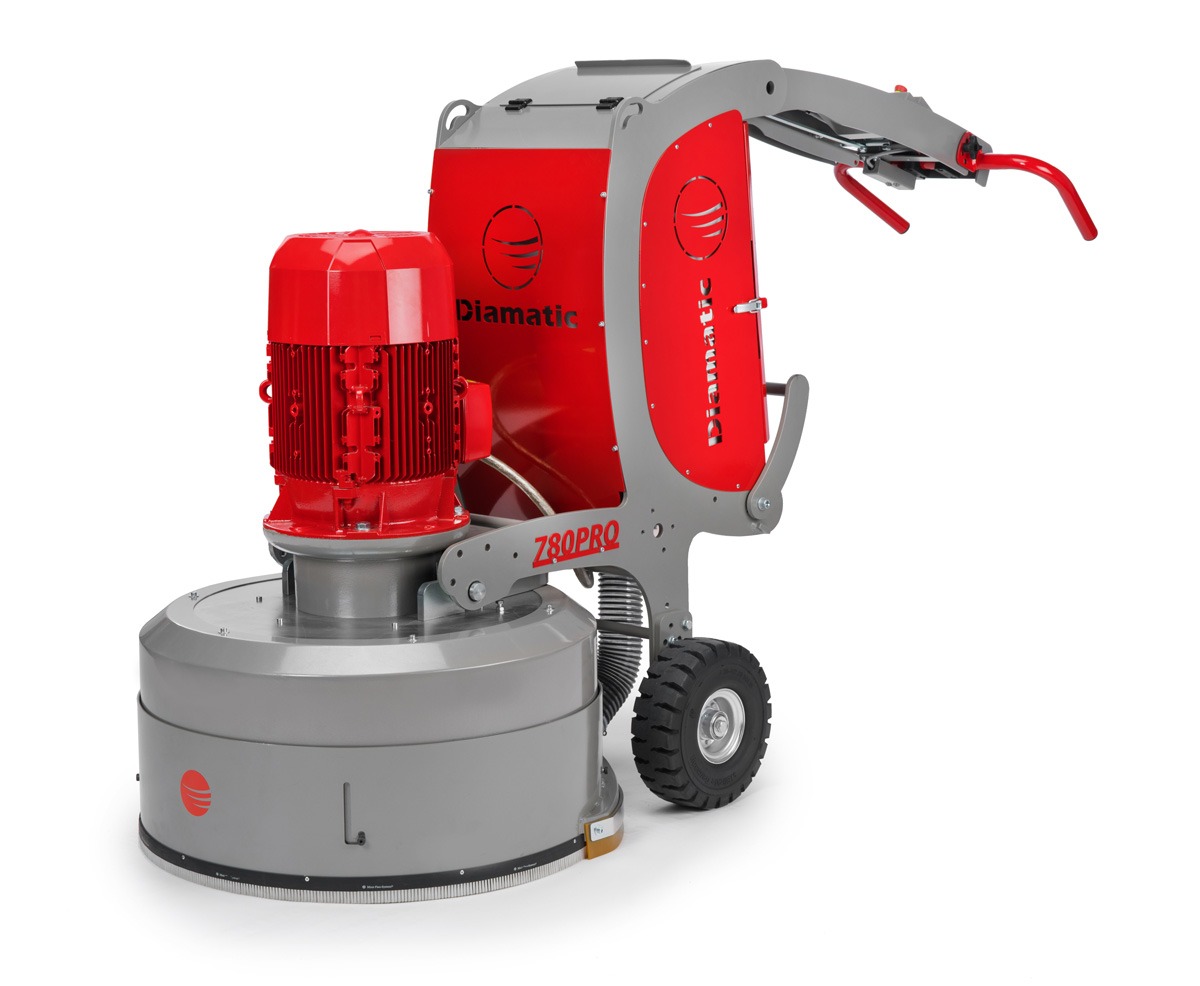 What is Polished Concrete
Heavy-duty machines are used to gradually grind down a concrete surface to the desired degree of shine and smoothness, similar to sanding wood. Read more on the basics of polished concrete and the process of polishing.
Where can polished concrete be used?
The most common places polished concrete is used include:
Large warehouses and warehouse outlets
Retail stores
Hotels and restaurants
Office buildings
Auto showrooms
Private residences
Can all concrete floors be polished?
Almost any structurally sound concrete floor, whether old or new, can be polished with proper preparation. However, there are some exceptions. Our polished concrete floor professionals can help you determine if your floors are suitable for polishing.
Are polished concrete floors hard to maintain?
Polished concrete floors are extremely durable throughout their life, but will need a little maintenance to keep their beautiful shine. The good news is, they are generally easier to maintain than other types of decorative floors. Routine maintenance consists of keeping the floor free of dust and debris that can abrade the surface with dust and damp mopping.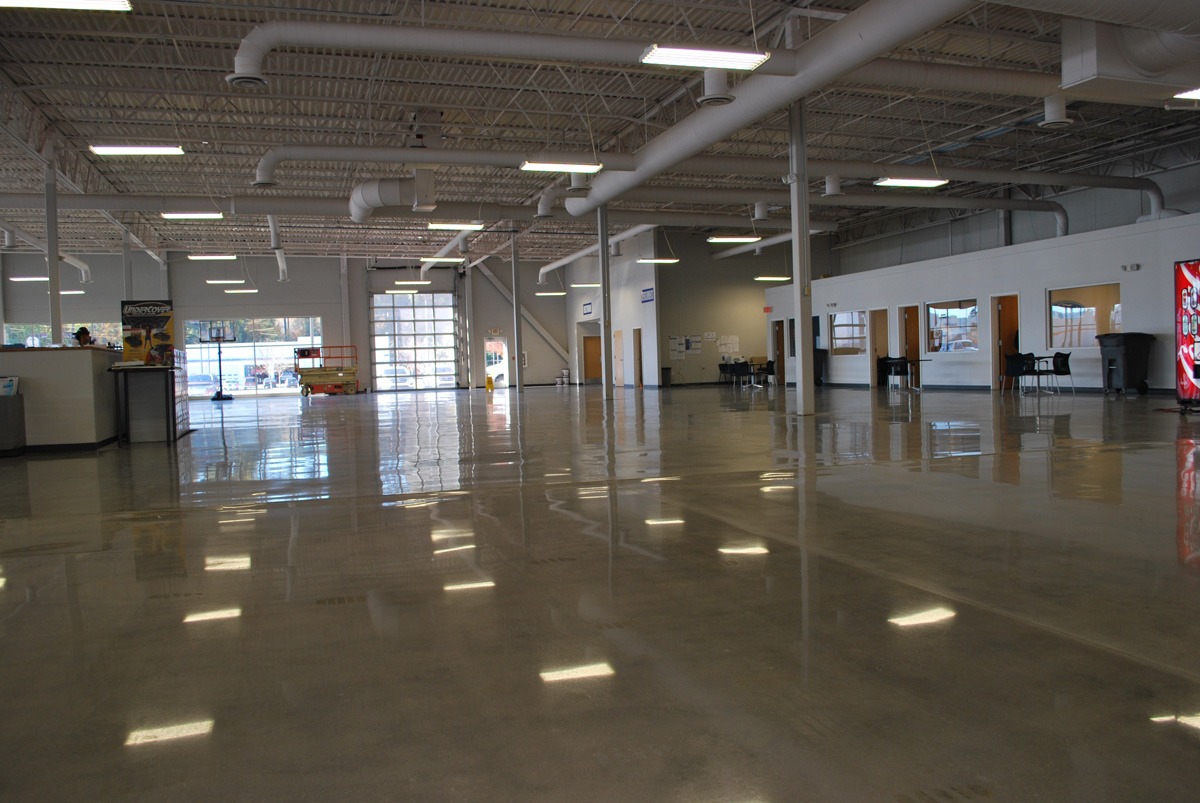 Benefits of Polished Concrete
Elimination of Dusting from Efflorescence In ordinary unpolished concrete, tiny particles of dust are pushed to the surface through an upward force called hydrostatic pressure, resulting in efflorescence. Efflorescence leads to dusting, which forces epoxies off of the surface of concrete floors and can make maintenance a costly priority.
Stain-Resistant By densifying and sealing the surface, polished concrete transforms a porous concrete floor into a tightened floor that is dense enough to repel water, some chemicals, and other contaminants within a designated time frame, preventing them from penetrating the surface.
Improved Reflectivity and Ambient Lighting The reflective properties of a polished concrete floor increases the lighting in facilities. Increased ambient lighting will reduce the energy bill as well as look beautiful.
Increased Slip Resistance Polished concrete, though quite shiny, does not create a slippery floor. In fact, the benefits of mechanically grinding and flattening the floor will increase the coefficient of friction when compared to ordinary concrete. Polished concrete often exceeds OSHA standards for floors. (ASTM C 1028)
Less Maintenance Most floor systems, including tile and linoleum, require aggressive scrubbing to maintain a clean environment and nice appearance. Polished concrete surfaces are tightly compacted, reducing stains and do not require any waxing or stripping to maintain the sheen.
Cost-Effective Polished concrete will reduce energy and maintenance costs significantly through reflectivity and ambient lighting, reduction in upkeep (such as waxing) and reduced tire wear.
LEED Friendly Polished concrete not only utilizes existing concrete surfaces, eliminating additional materials such as coverings/coatings and moving towards sustainable building, it typically contains no noticeable VOC's, making it friendly for any USBG LEED project.
Improved condition for old floors (Mechanical Polish Only) As concrete ages, surface stress, delamination, curled cold joints and other problems can arise. Mechanically grinding the floor will remove the top surface of the old concrete and polishing will then strengthen it, increasing its impact and abrasion resistance.
Reduced Tire Wear (Mechanical Polish) The rough, uneven texture of natural concrete causes tires to abrade, adding to their wear. A polished concrete floor system will level the joints and make the entire surface smooth, preventing this abrasion.
No Production/Plant Shutdowns (Mechanical Polish) Dry-Mechanically polished concrete can be put into service immediately after the process is complete. Due to the cleanliness of the process and the lack of toxic or hazardous chemicals, floors can often be serviced while the plant is in full production.